So your friends are at it, your Facebook friends are at it and even your parents are at it but what's the point in getting outside?
There's been a mini revolution occurring and it's all taking place outside away from the computer, the tv and most importantly the sofa.
Over the last few years the number of people getting outside has grown and to no surprise they're loving it! The great outdoors is not a new concept, it hasn't just been built on the new retail park it's been there all this time. We just didn't realise. ​
For some the term 'get outside' invokes thoughts of hanging off a cliff face by a rope or scaling a massive peak in the Himalayas but it doesn't have to. The benefits of getting outside are often right outside your front door and all you have to do is open it. But where do I go, what should I do?
Your outdoor fix could be on your doorstep
The answer is simple, whatever you want and within your means. So perhaps Ben Nevis is a step too far for your first get outdoors fix but there's bound to be local areas where you can experience a glimpse of what's on offer.
The local nature reserve, country park, local canal or even taking the dog for a longer walk than usual can be a great start. No doubt wondering round your local area you'll see and experience things like never before no matter how long you've lived there.
What's best is, if you carry a snack or packed lunch and some water it's absolutely free! If you want to explore new ground that is nearby then Walking Britain offers a great search tool. Whether you find a new beach or discover new haunts in your local area, one thing is for sure, it is all good for the soul.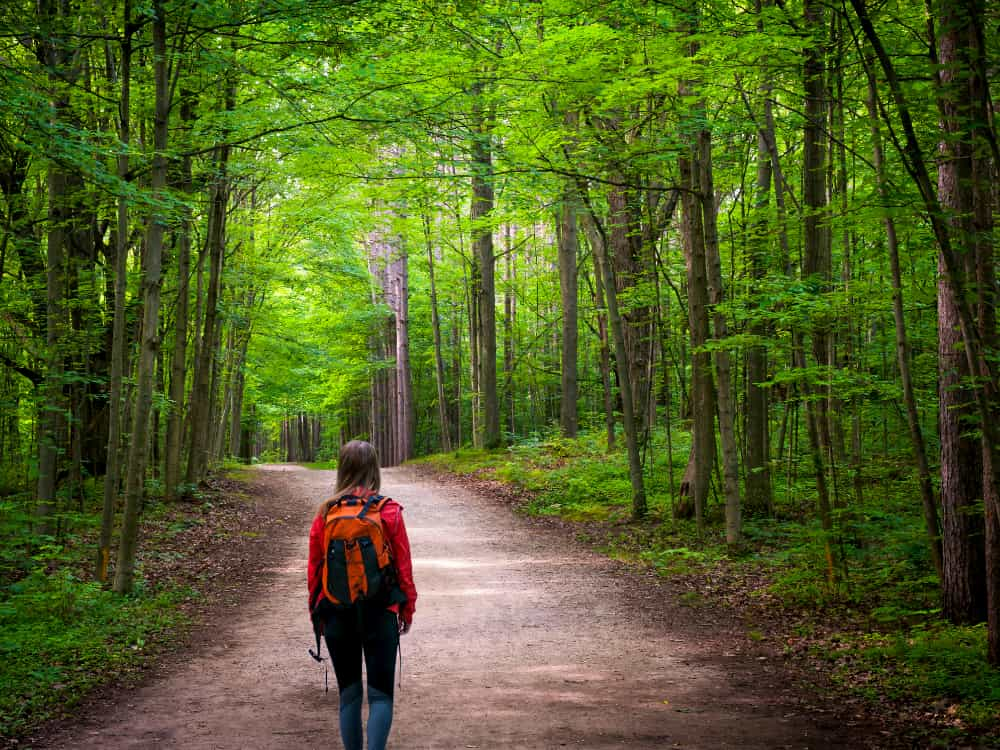 Make the effort for your mind
But why bother, it's such an effort I hear you say. Well surprisingly it's not. The positives of the outdoors definitely outweigh the negatives, just give it a go and see for yourself.
I'm no doctor but statistically speaking getting outdoors reduces stress and anxiety levels, improves fitness all while taking your mind of the mundane day to day.
Top 10 health benefits to body and soul
Walking is exercise! You don't have to be doing a HIIT session or run a 5km to get the benefit from being outside. No membership required – just walk out of your door.
Feed your bones and immune system – get outside and get that Vitamin D absorbed.
Reduce any anxiety – get outside and rise those serotonin levels, these can reduce stress, level your mood and help you feel calm.
Getting outside can be social – you can feel connected not only to nature but to others, those you are with or those you meet. Either way you'll be surprised at how good you feel.
Improve your sleep – Cells in your eyes need enough light to get your body's internal clock working right. Early morning sunlight in particular seems to help people get to sleep at night, so get out there and do an early morning walk!
Improve your focus and build your self esteem – set yourself a challenge – you will be amazed at what you can achieve. Be it a mile a day walk everyday for a month or a full challenge like our Yorkshire 3 Peaks day trek or 24 hour National 3 Peaks Challenge, you will feel great afterwards!
Got a brain freeze on that presentation you know you need to deliver? Need to draft a proposal for a new client? Spending time outside can boost your creative problem solving abilities. Go out – give your brain a nudge!
Keep healthy both mentally and physically. Get outside and burn those calories!
Lower your blood pressure and cholesterol – getting outside and especially hiking and trekking is a fabulous way to keep your heart healthy.
It helps you to unplug and step away from a world that is so hard to switch off from sometimes, be it a break from the laptop or PC or a walk with a friend, anytime outdoors will always make you feel better.
Our top resources for enjoying the outdoors
You'll come home feeling energised, with a sense of achievement and will most definitely want more. After your first trip into the great outdoors you'll soon be planning your second, third and so on.
Don't be afraid to ask for professional help if wanting to plan a bigger adventure, we were all inexperienced at one point and a little help and support could catapult your local outdoor adventures into epic treks across the globe, if that's your kind of thing.
Don't take my word for it. Try it yourself. Start small. Start close to home. Just Start!
Happy Adventures!
Simon